Riello UPS Systems
Scott UPS Power Protection are a distributor of Riello UPS and we have specifically trained Riello UPS engineers, so in the unlikely event of a problem with your Riello UPS, we can help. As an independent supplier of Riello UPS systems, we have a great understanding of all the Riello UPS, where they are ideally suited for and all the advantages they offer.
If you need help find a Riello UPS to match your individual specifications, why not contact us.
Riello UPS Product Ranges: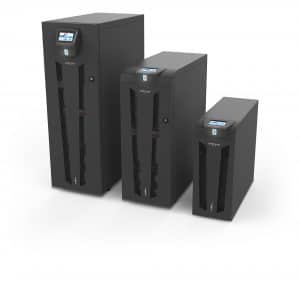 Riello UPS Sentryum
The Riello Sentryum range of UPS is the newest product release. Once again they have changed the game and adapted to new customer needs. The range is designed for sites where power capacity is limited. They provide up to 96.5% efficiency, even where sites have problems with harmonics.
Riello UPS Multi Sentry
The Riello Multi Sentry range of UPS is available in two configurations from 10-20 kVA and 30-200 kVA across 12 models. The smaller range was replaced by the new Sentryum range of interruptible power supplies (details above). The Multi Sentry, however, is exceptionally popular with customers. They represent an excellent solution for companies due to the online double conversion system. This makes it especially suited for capacitive, high-density loads found with blade servers. The Multi Sentry range provides efficiency up to 96.5% and is suitable for lightweight industrial applications as well as more usual data centres, servers, networks and telecommunications.
Riello UPS Multi Power
The Riello Multi Power range of UPS provides a modular solution. It is best suited to large mission critical installations such as data centres, Telecoms systems, and large IT networks. Its secret and suitability is defined by its modular specification. This provides almost limitless scalability and makes it suitable for most large installations. The units provide a surprisingly small footprint for their power and efficiency. They are also highly reliable which ticks the last of the boxes most customers are looking for in this class of solution. The Multi Power range has won awards and is recognised as an excellent UPS solution.
Riello UPS NextEnergy NXE
The Riello NextEnergy NXE range of UPS represents the next generation of UPS. They provide modern super efficient solutions capable of running at temperatures up to 40°C. This suits it to critical equipment in highly demanding environments. This is achieved through a forced ventilation feature that extracts heat from internal components to keep them running efficiently. They provide operating efficiency up to 97% and you can combine them together in parallel to increase capacity or add redundancy.
Riello UPS Sentinel Dual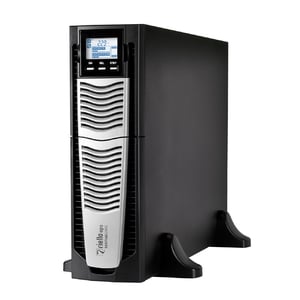 The Riello Sentinel Dual SDU range of UPS fills a niche in the range as the voltage is high quality output whether the load is linear or non-linear. It was designed primarily to protect blade servers and storage solutions in mission critical environments. It is also suitable for industrial machinery applications as well as data centres, VOIP telephone systems and IT networks. The range provides a series of versatile units that plug and play in whichever configuration you set them. They are available as either floor seated towers or in rack configuration. The Sentinel Dual SDU UPS range is also very reliable with hot swappable batteries and inbuilt battery testing. They can achieve 92% operating efficiency and feature programable operating modes to achieve the best performance for customer's specific applications. The units also integrate with PowerShield3, PowerNetGuard, and the other advanced network communications software in the range.
Riello UPS allow all businesses and organisations of all sizes and structures to protect their critical infrastructure against power cuts and surges. All businesses from start-ups, small-to-medium sized operations, multi-national corporations including household names, public services and government departments can benefit from a Riello UPS.